Our Veterinarians
The Cary Veterinary Hospital team of skilled veterinarians welcomes you to our practice. Proudly serving the Cary area. At Cary Veterinary Hospital, it is our daily privilege to provide quality vet care to your cherished pet, with compassion and competence. We hope to ensure a positive impact on our patients, pet owners and the local community.
We are pleased to have a staff that will make every effort to accommodate you and your pet. Each member has a genuine concern for the care and service your pet receives at our hospital. Our staff vows to continue to offer kind and compassionate service to all our guests.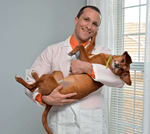 Andrew Moyer, DVM
Dr. Moyer has practiced in Cary since July 2015 and joined Cary Veterinary Hospital in June 2016. He was born and raised in Richmond, VA, where he met his wife, Nicole, in high school. They both attended VCU for undergraduate studies and moved to Champaign-Urbana, Illinois to the flatlands of corn and soybean fields for Dr. Moyer to attend the University of IL College of Veterinary Medicine. He and Nicole are happy to be back east, much closer to family!
In his free time, Dr. Moyer enjoys playing drums, going on hikes with his wife and their pup Ellie (pictured), and just relaxing at home watching movies. Dr. Moyer has special interests in client communication and education, behavior, and nutrition, as well as surgery and imaging. He looks forward to getting to know all of the friends and family of Cary Veterinary Hospital!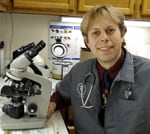 John Bailey, DVM
Dr. John Bailey first joined Cary Vet Hospital in 2003 as an Associate Veterinarian for 9 years and returned in December 2013 as the new Managing Veterinarian. He is a proud North Carolinian, born and raised in Raleigh. As a young boy, he developed a true passion for animals, often caring for many stray animals and even assisting with the birth of kittens. He soon had a home with multiple companions: cats, dogs, gerbils, hermit crabs, fish, lizards and much to his mother's dismay, garden snakes.
He attended NCSU with a major in Animal Science, graduating with Honors in 1997. He served as Chaplain for the national co-ed honor society Phi Sigma Pi. In 2001, he received his DVM from NC College of Veterinary Medicine. His special interests include internal medicine, advanced soft tissue and orthopedic surgeries. Throughout his career, Dr. Bailey has strived to provide the best medical care with compassion to his patients. He truly adores the animals that have been entrusted to his care and values the respectful relationships he has developed with his clients; they have become his extended family.
Dr. Bailey is married to his college sweetheart and they have 4 beautiful young children, 3 daughters and one son. They were very excited to join Cary Vet in the 2013 Cary Jaycees Christmas Parade dressed adorably as a mini-Vet, mini-Vet Tech, kitty and puppy. He has 2 rescued cats, Thor and Storm, named after some of his favorite comic book characters. His hobbies include reading, collecting comic books and going to the movies. His favorite author is James Herriot and his favorite movies include Star Wars, Harry Potter and the Lord of the Rings. He enjoys family time with his wife and children at the local parks, museums, beaches and mountains. He attends Hope Community Church and is a member of NCVMA and AVMA.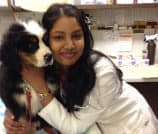 Mithra Nalluri, DVM 
Dr. Mithra Nalluri joined Cary Veterinary Hospital in February 2018. She recently moved to North Carolina from New Jersey for warmer weather, and a serene and active life style. After practicing in Sanford, NC briefly, Dr. Nalluri is excited to be part of Cary Veterinary Hospital. She practiced for 14 years as a small animal veterinarian and gained tremendous experience in small animal medicine, surgery, and dentistry.
Because every patient is special and every situation is unique, Dr. Nalluri believes in personalized care for her patients. She emphasizes this when discussing options with her clients. This individual attention has created very strong bonds between Dr. Nalluri, her clients, her patients, and the community over her career of 15 years.
Originally from central New Jersey, Dr. Nalluri worked in the veterinary industry for a number of years prior to obtaining AVMA accreditation.  She completed her clinical training at Purdue University School of Veterinary Medicine in 2003.
In her spare time Dr. Nalluri enjoys spending time with her family, yoga, and volunteering at community events. We are very fortunate to have such a wonderfully experienced, knowledgeable, friendly, and caring doctor join our team.